Your Local Pressure Washing Company in Lake Oswego, OR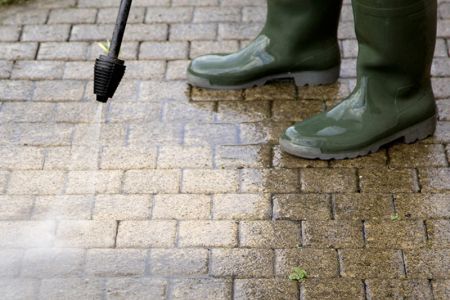 For years, Hydro Clean Environmental has been the go-to pressure washing company for residents, business owners, and commercial property owners across the greater Lake Oswego area.
We're proud to help our Lake Oswego clients with all their pressure washing needs. From basic roof cleaning to full sports court cleaning, we cover it all. If you'd like to learn more about our services, read on.
Hydro Clean Environmental Provides Variety of Pressure Washing Services for Lake Oswego Clients
At Hydro Clean Environmental, we deliver a wide variety of pressure washing services for our Lake Oswego clientele, including the following:
House washing: Hire us to clean your Lake Oswego home from top to bottom, starting with the roof, and making our way down to the foundation, scrubbing everything in between. We'll truly make your home look like new with our exemplary pressure washing services.
Roof cleaning: It can be both dangerous and difficult to clean your roof, especially if you're not experienced. Our licensed and insured pressure washing team can get on your roof and remove all traces of dirt, grime, mold, algae, and more.
Gutter cleaning: Our one-of-a-kind gutter cleaning services will ensure that both the inside and outside of your gutters look (and work) as good as new.
Window cleaning: You won't need to worry about streaks or splotches when you hire Hydro Clean Environmental to handle the window cleaning for you.
Commercial pressure washing: While we love helping our residential clients, we also specialize in commercial pressure washing service as well. Whether it's a small office or a large corporate building, we've got you covered for all your commercial pressure washing needs.
Graffiti removal: Graffiti can have a major, harmful impact on your business's curb appeal. With our graffiti removal services, we can get rid of all signs of unwanted paint from your business exterior without harming the surface underneath.
Sports courts cleaning: From tennis courts to basketball courts, we'll completely revitalize your sports areas and make them shine like new.
These are a couple of the services we offer to our clients in the region. If you're Lake Oswego resident or commercial property owner, contact us today to see how our pressure washing services can help you.
Hydro Clean Environmental: Top Parking Lot Cleaning Service in Lake Oswego, OR
People are unlikely to leave their cars parked in a lot that doesn't look like it's properly maintained. That is why you should hire the top parking lot cleaning service in Lake Oswego to come to the rescue. Hydro Clean Environmental has the tools, equipment, and knowledge to truly get deep into the surface of your parking lot and draw out the impurities. After we're done, you'll be amazed at the cars lining up to use your lot!