Make Your Business Property's Windows Shine With Commercial Window Cleaning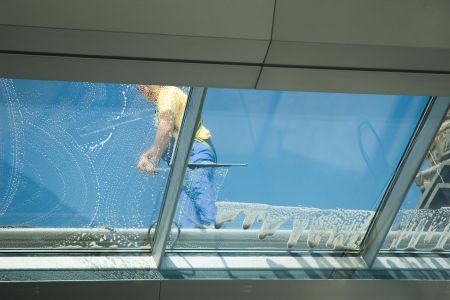 Hydro Clean Environmental's commercial window cleaning service is one of the best in the greater Beaverton area, and once you see our results, we're sure you'll agree!
For years, we've been helping commercial properties all across Beaverton with their commercial window cleaning needs. After all, we know how tedious and difficult it can be to clean windows on a small home, but when you're trying to clean the windows on a large commercial property such as a massive corporate building, it's only more challenging. That is why you need not just any commercial window cleaning service, but the best in the area to handle this chore for you.
There are multiple reasons we're regarded as one of the go-to pressure washing companies in Beaverton. We use commercial-grade equipment, which is much more efficient and more powerful than the average pressure washers that you'd find at your local home improvement store. The mold and mildew that builds up on your windows can be tough to clean with ordinary window cleaner and a squeegee. You need Hydro Clean Environmental's arsenal of pressure washing equipment (and expertise) to get the best results.
Not only are we equipped with high-quality pressure washing tools, but we're also experienced and knowledgeable in the industry. We've been in this line of business for many years, so we know exactly which strategies and methods to use to ensure your windows don't just look clean, but that they also remain clean for a very long time.
For your windows, we may use a specialized method called soft washing. This involves lower water pressure combined with eco-friendly detergents, which will get deep into the mold and grime build on your window and completely remove them, leaving behind a clean surface with no streaks and no smudges.
Don't stress about cleaning your windows any longer. Hire Hydro Clean Environmental to handle your commercial window cleaning needs for you. After we're done, we'll let you marvel at our work and see just how spotless we can make your windows. Although your windows will stay clean for a long time due to our use of special detergents and solvents, you'll still want us to come back on a regular basis for follow-up washes. We're just that good!
Find Out Why Our Commercial Pressure Washing Services are Ideal for Beaverton Businesses
We here at Hydro Clean Environmental are incredibly proud of our commercial pressure washing services. Ever since we opened our doors, we've been helping not just residential clients, but commercial clients as well, from small business offices to large corporate buildings. No matter the size of your business, we're sure our services are just right for you.
Interested in finding out more about our commercial pressure washing or commercial window cleaning services? A helpful representative is ready to take your call and to address any of your questions, comments, and concerns.