We Are A Leading Pressure Washing Company: Ready To Take Care Of Your Home's Exterior Surfaces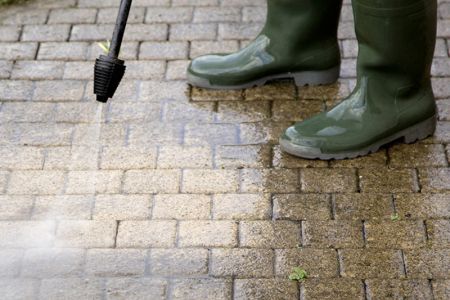 Your Lake Oswego home deserves to be treated by the best pressure washing company in the region. Luckily, Hydro Clean Environmental has got you covered.
For years, we've been providing a wide range of pressure washing services to Lake Oswego homeowners, business owners, and commercial property owners. From house washing to graffiti removal, to gutter cleaning, and much more, we handle it all. When we say we're the top pressure washing company in Lake Oswego, we mean it!
When you work with us, you know you're getting only the greatest results. Our skilled pressure washing team consists of numerous contractors with years of experience and a vast amount of knowledge in the industry. We know the right methods and strategies to use to make sure the surfaces are left nice and clean without any streaks, spots, stains, or damage.
Our skilled pressure washing team works quickly, quietly, and efficiently at your home or business. You won't even know we're there, and after we're done, we clean up after ourselves and leave no traces of our presence behind (except for the cleanest surfaces you've ever seen!).
Here are a couple of the services our pressure washing company offers to Lake Oswego clients:
Roof cleaning: We'll get on top of your roof and thoroughly clean it of all dirt, grime, fungus, mold, and algae. We're licensed and insured, so you won't need to worry about injuries or damage.
Gutter cleaning: We will flush the twigs, leaves, and other debris out of your gutters, and then we'll thoroughly clean the exterior as well, so that they look clean both inside and out.
Window cleaning: Your windows need to be cleaned thoroughly and regularly. Instead of relying on your usual household cleaning fluid, it's best to hire our professional pressure washing service to ensure your windows look the best that they can.
Commercial cleaning services: We offer various commercial cleaning services, like parking garage cleaning, sports court cleaning, graffiti removal, and much more.
These are only a couple of the services we offer. If you're interested in learning more about what we do, give us a call to speak to a knowledgeable and helpful representative.
Our Soft Washing Methods are Great for Delicate Surfaces
Pressure washing is great for most surfaces around your home, such as brick, concrete, wood, brick, and more. However, for more delicate surfaces, such as vinyl, screens, and shingles, you'll want something more gentle. That's where soft washing comes in.
Soft washing involves a combination of low water pressure and special, eco-friendly detergents. This lets us thoroughly clean a lot of softer, more delicate surfaces and remove even the most stubborn stains without worrying about causing any damage. Don't worry - the soaps and solvents we use will not cause any harm to you, your home, or the environment.