Sherwood's Leader in Pressure Washing Services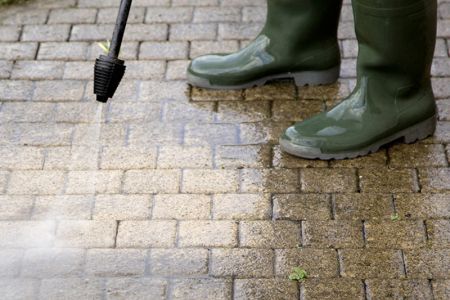 If your home, business, or commercial property in the greater Sherwood area is in desperate need of a good pressure washing, make sure to contact Hydro Clean Environmental today!
For years, we've been the go-to pressure washing for people all over Sherwood, and if you were to ask any of our clients what they think of our services, we think they'll tell you they're incredibly happy. To find out more about what we can do for your Sherwood home or business, continue reading.
Revitalize Your Sherwood Home or Business with Our Pressure Washing Services
Hydro Clean Environmental's pressure washing services for Sherwood homes and businesses include the following:
House washing: We can clean your entire Sherwood home from top to bottom with our house washing services. We'll clean your roof, siding, doors, windows, and much more. Every nook and cranny will be spotless by the time we're done.
Roof cleaning: Cleaning your roof can be both dangerous and difficult if you're not an experienced contractor. Hire our licensed and insured roof cleaning team to handle this tedious chore for you.
Gutter cleaning: Our gutter cleaning services include a thorough wash of both the interior and exterior of your home's gutters. That way, they'll look great both inside and outside.
Window cleaning: You won't need to worry about streaks or splotches on your windows anymore when you hire Hydro Clean Environmental for your window cleaning needs.
Commercial cleaning: Besides helping out residential clients, we also provide exceptional commercial pressure washing services for businesses across the Sherwood region. Restaurants, small business offices, corporate parks, and more can take advantage of our unmatched services.
Sports courts cleaning: Make your tennis and basketball courts look as nice as possible with a good pressure washing. Our sports courts cleaning services are truly second-to-none.
Auto detailing: Have a large fleet of commercial vehicles that need to be cleaned? Rather than exhaust yourself trying to handle it yourself, hire our company to give your vehicles a thorough washing, from the tires to the windshield, and everything in between.
These are only a few of the services we offer to our clients. If you'd like to get a better understanding of what pressure washing services we can offer for your Sherwood home, contact us today.
Hydro Clean Environmental: Sherwood's Finest Parking Lot Cleaning Service
Is your parking lot looking a little worn-down and unkempt? Sounds like you need a good, thorough parking lot cleaning service to come to get the job done. Hydro Clean Environmental will blast away all traces of dirt and grime from the surface of your lot and make it truly look as good as new. Cars will be lining up to use your lot once we're done with it!