Our Professional Sports Courts Cleaning Will Make Your Recreational Space Safe, Clean, & Inviting For Your Players And Customers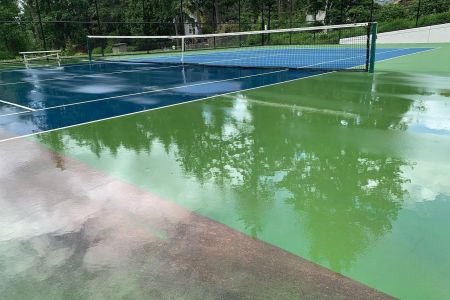 One of the best ways to keep sports players happy is to have a clean court for them to play on. What better way to achieve that than to hire one of the best pressure washing companies in Lake Oswego to do a good, thorough sports court cleaning?
For years, Hydro Clean Environmental has been providing exemplary pressure washing services to both residential and commercial clients across Lake Oswego. From parking garage cleaning to full house washing, your property is in good hands when you work with us. One of our services that we think most of our commercial clients would be interested in is our sports court cleaning option.
It's easy for a court to get dirty over time. Sneaker marks, streaks, dirt, mud, and other unwelcome guests can make their way onto the court and make it look unclean and unkempt. You don't want people playing on a poorly maintained court, do you? That's why it's best to hire Hydro Clean Environmental to come to get the job done.
We use commercial-grade pressure washing tools and equipment that allow us to blast away any residue and grime that may build up on your sports courts. We also employ unique strategies and methods that we've learned over the years to make sure we don't leave behind unclean spots or streaks. Our sports court cleaning service is second to none, and once you experience it, we know you'll be thrilled with our results. If for any reason you're not satisfied, we'll do all that we can to provide a quick and effective solution.
Give us a call today to find out more about what our sports court cleaning services can do for you.
How Does Soft Washing Keep Your Sports Courts Clean and Fresh?
To properly clean your sports court, we employ a variety of techniques and equipment to get the best results. One of our strategies is called soft washing, which is a gentler approach than traditional pressure washing.
With soft washing, our pressure washing team uses lower water pressure combined with special eco-friendly detergents, solvents, and soaps. This allows us to thoroughly clean surfaces without you having to worry about causing potential damage. The detergents eat away at all the harmful growths and dirt that may accumulate, and the low water pressure blasts them all away for good.
The best part? The detergents we use are completely safe. You won't have to worry about any toxic fumes or chemicals making their way onto the court.
If you're interested in learning more about our sports court cleaning services, please make sure to contact us today. A helpful representative is ready to take your call and to address your questions or concerns.