Superior Parking Garage Cleaning Makes Your Commercial Space Look Fresh, Safe, and Inviting To Prospective Customers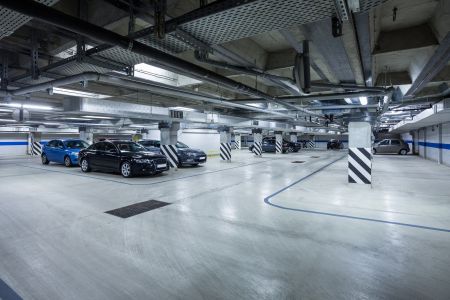 The truth of the matter is that many vehicle owners will be hesitant to park their cars somewhere that looks unkempt and poorly maintained. Thankfully, for Beaverton commercial property owners, you can rely on Hydro Clean Environmental and our parking garage cleaning services.
A parking garage is prone to all sorts of growths, grime, and accumulations, such as oil stains, tire marks, bug nests, mud, and much more. Cars are less likely going to park in a garage that doesn't look like it's being maintained. However, trying to clean up a parking garage by yourself can be tedious and exhausting. That's why you should hire a professional parking garage cleaning service, such as Hydro Clean Environmental.
We have the right equipment and strategy needed to ensure we clean your parking garage and leave it looking as good as new. We'll blast away all traces of dirt and grime so that parking lines are clearer, the asphalt is smoother, and the overall garage looks infinitely more welcoming.
In some cases, we'll also use a collection of special detergents and soaps to get the job done more efficiently. These detergents will eat away any grime and mold without harming the surfaces underneath. The best part? They're completely eco-friendly, so you don't need to worry about any potential harm to the garage itself or the environment
Ready to transform your company's parking garage? Don't hesitate to call Hydro Clean Environmental. We have a staff full of experienced and knowledgeable pressure washing specialists who are committed to keeping you happy. Give us a call today so that we can address any of your comments, questions, and concerns, and so that we can help draw up a quote for your preferred service. Remember, it's better to handle this sooner rather than later.
Hydro Clean Environmental's Commercial Pressure Washing is Second to None
We here at Hydro Clean Environmental are extremely proud of our commercial pressure washing services. For years, we've not only enjoyed being the go-to pressure washing company for residential clients around the greater Beaverton area, but we've also loved being able to help commercial customers as well. From small offices to large corporate buildings, we've handled it all. Our arsenal of commercial-grade equipment, extensive background in the pressure washing industry, and our commitment to customer satisfaction is what makes our business stand out from our competitors.
Are you interested in improving your commercial property via pressure washing? Make sure to contact Hydro Clean Environmental today to find out more about our services. Whether you want to take advantage of our parking garage cleaning option, or even our basic window cleaning package, we think you'll absolutely love working with us.