Roof Cleaning Safely Washes Away Dirt, Mildew, And Algae From Your Home's Roof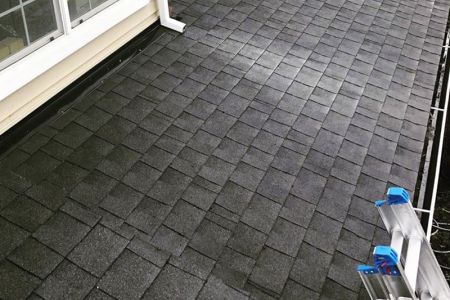 If you're a Lake Oswego homeowner, you know how important it is to invest in a proper roof cleaning service. Thankfully, Lake Oswego residents, commercial property owners, and business owners know that they can turn to the pressure washing specialists at Hydro Clean Environmental.
Keeping your roof clean is a necessity for homeowners. Dirt, grime, mildew, mold, algae, and other types of growths can build on your roof over time. Left untreated, these growths can dig into the material of your roof and actually cause structural damage. The longer you wait, the more damage that can happen. That is why roof cleaning is better when it's completed sooner rather than later.
However, roof cleaning can be dangerous if you don't know what you're doing. That's why we recommend contacting our pressure washing pros at Hydro Clean Environmental to handle it instead. We're licensed and insured, and we know all the right strategies and methods to ensure we get the roof clean without having to worry about injuries or damage.
Our experience and knowledge in the pressure washing industry, our arsenal of commercial-grade pressure washing equipment, and our commitment to customer satisfaction is what makes us one of the top roof cleaning companies in the region. When you work with Hydro Clean Environmental, you know you're getting only the best.
While checking out our roof cleaning services, we recommend that you also look at our gutter cleaning option. We'll flush out the twigs, leaves, and debris that accumulate in your gutter and then wash the exterior as well so that your gutters can look as good on the outside as the inside.
Why You Need Soft Washing For Your Roof
Many Lake Oswego homes have roofs made of shingles. While they look nice, they can be a little tricky to clean. If you use regular pressure washing methods, you can actually potentially cause damage, such as loose or broken shingles. If you're a homeowner, you know how expensive it is to repair a roof.
To avoid causing any harm to your roof while still ensuring we're getting rid of all the gunk, grime, algae, and other growths, we use a technique called soft washing. Unlike standard pressure washing, soft washing utilizes lower water pressure and combines it with special detergents. This allows us to clean more delicate surfaces such as vinyl siding, screens, and shingles, without causing any damage.
No need to worry about these detergents we use because they're totally eco-friendly and unable to cause harm to you, your home, or the environment.
Ready for some prime roof cleaning for your Lake Oswego home? Make sure to contact us at Hydro Clean Environmental soon. We can't wait to hear from you!