Instantly Improve Your Curb Appeal With House Washing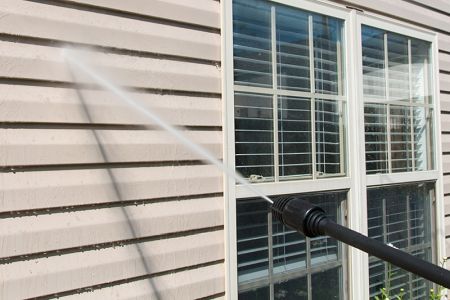 Your Beaverton home deserves to look its absolute best, and in order to do that, you'll need to hire one of the top house washing teams in the region. Thankfully, the pressure washing pros at Hydro Clean Environmental have got you covered!
We've been helping residents, commercial property owners, and business owners with their house washing needs for years, and there's a reason why people consider us one of the best pressure washing companies in the business. But what exactly does house washing entail, and why is it so important?
Your home accumulates all kinds of grime over time. Dirt, grass trimmings, algae, fungus, and bug nests are just a couple of the unwanted guests you'll find around your property. Left unattended, not only will all these accumulations make your home look unkempt and dirty, but they can also cause damage and harm down the road. For example, algae can eat away at the limestone in your shingles. Mold can permeate the walls and seep into your home, causing potential harm to you and your family.
It's important to keep your home clean of all these foreign bodies, and the best way to help in the fight is to invest in a proper house washing service, such as Hydro Clean Environmental.
As part of our services, we'll clean your Beaverton home from top to bottom. We'll thoroughly clean your roof, your siding, your doors and windows, your walkways, and much more. The goal of our house washing service is to ensure your entire property is looking as clean as can be.
When we wash your home, you'll be impressed at how we manage to work so quickly, quietly, and efficiently. You won't even know we're there, but once we're done, you'll definitely notice a difference in the overall appearance of your home.
Soft Washing Will Thoroughly Clean More Delicate Surfaces
Not all surfaces are made the same, and thus, they need to be cleaned in their own special way. Regular pressure washing may be too rough for certain surfaces around your property and can possibly cause damage. That is why we use a method called soft washing.
Soft washing utilizes a mix of low water pressure and special detergents and solvents. Rather than using pure force to clean off surfaces, like traditional pressure washing, it instead uses a more gentle approach. This is excellent for surfaces such as vinyl siding, screens, and shingles, making this a great method for roof cleaning.
However, even though the water pressure is lighter, the combination with the detergents makes it able to permeate all kinds of grime and completely wash it away.
Don't worry. The detergents we use in our strategy are completely eco-friendly. They won't cause any damage or harm to you, your home, or the environment. The only thing that you should be worried about is the mold and grime accumulated on your home.